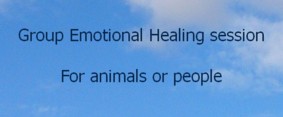 I am offering another group emotional clearing session on Saturday.
I will do the session on Saturday morning around 8am, no matter where you are. If you would prefer it to happen later for you, that is fine, simply ask for the clearing I have done to take effect at the time that suits you. All you need to do is relax and drink extra water for a few days. Extra water available for the animals too. They may either sleep a bit more or be extra lively for a few days after.
~~~
Feedback ~

I felt very peaceful and contented after the clearing last night.
~~~
I feel a lot lighter and definitely brighter than I did yesterday.
~~~
Definitely feeling so much lighter! Was able to sleep last night whereas it had been hit and miss for a long time. Feel more cheerful too xx thank you
~~~
The last group session definitely helped me so I've joined this one too.
~~~
I've had good results from the 2 previous group sessions so I'm looking forward to this one.
~~~
For many years I have helped hurt, abandoned, abused animals of all species for free and continue to do so. That does however take time and effort and I do have to eat, feed my dog, pay rent and all the usual bills. If you would like to make a Gratitude Gift on behalf of the many hundreds of animals I have helped and will help, please do so here. Many thanks. PayPal also accepts credit and debit cards.