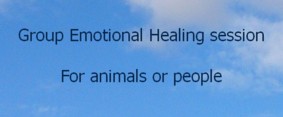 The full moon is, as ever, encouraging us to let go of all that is holding us back and release all the emotional rubbish we are hanging on to, consciously or not, so that we can move forward unencumbered by it all. So, on Friday, I will do another group emotional clearing/healing session - I will clear all trapped emotions, emotional resonances, heartwalls and trauma that are ready to leave for each person and animal booked up.
The last session cleared hundreds - a total of 444 Trapped emotions, 342 Emotional resonances, 333 Heartwalls and 263 trauma energies. Let's see what we can zap this time :)
I will do the session on Friday evening at 8pm your time, no matter where you are. If you would prefer it to happen later for you, that is fine, simply ask for the clearing I have done to take effect at the time that suits you. All you need to do is relax and drink extra water for a few days. Extra water available for the animals too. They may either sleep a bit more or be extra lively for a few days after.

I had some great feedback last time, would love to hear of any effects you notice.
~~~
Feedback ~

I felt very peaceful and contented after the clearing last night.
~~~
I feel a lot lighter and definitely brighter than I did yesterday.
~~~
Definitely feeling so much lighter! Was able to sleep last night whereas it had been hit and miss for a long time. Feel more cheerful too xx thank you
~~~
The last group session definitely helped me so I've joined this one too.
~~~
I've had good results from the 2 previous group sessions so I'm looking forward to this one.
~~~
For many years I have helped hurt, abandoned, abused animals of all species for free and continue to do so. That does however take time and effort and I do have to eat, feed my dog, pay rent and all the usual bills. If you would like to make a Gratitude Gift on behalf of the many hundreds of animals I have helped and will help, please do so here. Many thanks. PayPal also accepts credit and debit cards.