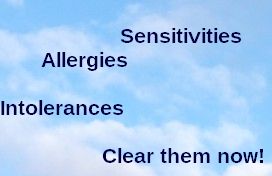 So many people and animals are having problems with allergies and/or sensitivities to foods, airborne pollutants, pollen and more nowadays. Energy work is another way of clearing/minimising them. I use a mixture of modalities. As with all clearing, it may well take more than one session, each individual is different. Allergies often run deep but there will also be the one-hit wonders :) These sessions are for animals and people.
Feedback ~
He hasn't been at all interested in nibbling his paws since you worked on him. You're a star!
He's also had a new lease of life and has been keen to go off exploring rather than stay by our side.
~~~~~~~~~~~~
Our Weimaraner suffered with such a sensitive stomach, allergies, rumbling tummy & hunger pukes. For years we struggled to keep his weight up. After contacting Muriel for Body Code sessions we were amazed at the results. Over the next 3 months (we changed nothing) he gained weight and his poos improved dramatically. After his first session he also instantly lost his fear of frying smells & the extractor fan - an unexpected surprise as I had not asked Muriel to work on this.
We then began to research raw food & decided to switch him to this a few months back. He didn't cope well with the initial change so we turned to Muriel again for another session. He is doing so well on his raw now. Tried duck, turkey, venison, egg, pork, rabbit & tripe so far. He is the perfect weight, has perfect poos & no rumbling tummy or hunger pukes since, plus he absolutely loves it. We are so happy for him!
I would never hesitate to contact Muriel again & would recommend her fantastic work to anyone. I am a complete convert. Thanks Muriel, love from a very happy Argent & Kirsty xx
~~~~~~~~~~~~
For many years I have helped hurt, abandoned, abused animals of all species for free and continue to do so. That does however take time and effort and I do have to feed Millie and myself and pay the usual bills. If you would like to make a Gratitude Gift on behalf of the many hundreds of animals I have helped and will help, please do so here. Many thanks. PayPal also accepts credit and debit cards.