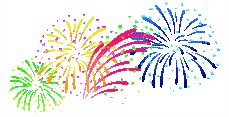 This helps to calm scared animals with fireworks going on around them. It will also help any other fears.
You can choose what type of session or combination you would like -
A Clearing session which encompasses all the clearing techniques I use.
A 20 minute Reiki session.
An energetic essence for as long as needed.
As they all help in different ways, a combination is ideal. Ideally you would start weeks beforehand so that the clearing has time to settle prior to fireworks starting. For extreme cases it could take a few sessions.
Testimonials from some of the people whose animals I have helped -
My dog Snow has improved greatly with one firework session. He was stressed out about the addition of a new kitten as well, but after one distant session he no longer bolts when something 'pops' but heeds my call and waits to get his lead on again. Before, he would bolt for the house no matter what was in his way. He's doing really well with the kitten too. Lorraine Poole, Falkirk
~~~~~~~~~~~~~~~~~~~~~~~~~~~~~~~~~~~~~~~~~~~~~~~~~~~
"It is a MASSIVE improvement! Many thanks for so far!" After one session for a dog in Inverness who was absolutely terrified to start with. I worked on him during his panic.
~~~~~~~~~~~~~~~~~~~~~~~~~~~~~~~~~~~~~~~~~~~~~~~~~~~
and from a dog in Canada .......

"Dear Muriel, thanks so much for all your help. I am a shy dog, and was lacking in confidence with most people. I wouldn't get close to anyone besides my caregivers. Loud noises scared me, and quick movements from people would have me running far away.
Your treatments really helped me realize that people are safe, and that I don't have to be afraid of them. I am now able to go up to people that I don't know and to smell them. I will even let them pet me, whereas before I wouldn't get close enough to anyone (except my caregivers) to let them pet me. I feel so much more confident and thank you for all your help with this. You have made my life so much more enjoyable now that I realise that I don't have to be afraid of so many things.
I really appreciate all you have done for me Muriel. Thank you again for all the treatments to help me release my fear of people
Tail wags and puppy kisses
Bree"
~~~~~~~~~~~~~~~~~~~~~~~~~~~~~~~~~~~~~~~~~~~~~~~~~~~
For many years I have helped hurt, abandoned, abused animals of all species for free and continue to do so. That does however take time and effort and I do have to feed Millie and myself and pay the usual bills. If you would like to make a Gratitude Gift on behalf of the many hundreds of animals I have helped and will help, please do so here. Many thanks. PayPal also accepts credit and debit cards.