Welcome! I am Muriel. I live in East Lothian, Scotland. I am an Usui Reiki Grand Master/Teacher and also use various other distant healing modalities and techniques to help animals and people restore health to body, mind and spirit. I mainly focus on emotional healing which of course can in turn help the physical.

I specialise in distant healing which means you can be anywhere in the world and I can help. Once you have booked and paid for your session we will arrange a time that suits us both and at that time I will do the work, you only need to be relaxed and to drink extra water for a few days to aid clearing. Our contact is by email.

Everything I do is equally as effective for animals as it is for humans and can be used alongside other treatments of any type and/or allopathic medicine if wished whether that is veterinary care or that by doctors.

I make Flower, Crystal and other Essences which very gently help balance the emotions.
My journey into alternatives and complementary therapies started with trying to help my first dog, Hannah's serious arthritis and spondylitis when the vets could no longer offer any help and she could barely walk. She was with me for three more years than the vet predicted once I stopped the drugs which were no longer doing any good and used natural remedies. In fact that very first natural remedy took her from hobbling a hundred yards on very shaky legs and having to lie down on the pavement to rest every few yards to trotting a couple of miles on sturdy legs within a week! She taught me such a lot as did my next two dogs, each teaching me more and different things and reinforcing what the prior one had taught me. When we are willing to listen, animals can teach us so much! I have also learnt a great deal on my own self healing journey and everything I now do to help others has been tried and successfully tested on myself and my dogs.

I now do several different types of clearing and healing work and I know it can be confusing so please, if in doubt, use the Contact Me form to ask me what you would most benefit from. I will get back to you as soon as I can which will usually be within an hour or two.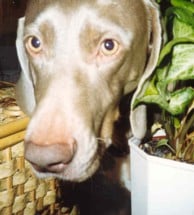 Hannah, teacher extraordinaire!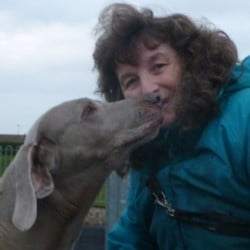 Millie and I
Special offer for animals and people -
buy nine sessions, get one free.
They can be used for any combination of animals and humans with no time limit on using them.
Enjo y


I now have a Facebook group about my work which you are welcome to join.
Gift Vouchers
Vouchers are available for any amount from £5 upwards and can be used towards a session of their choice for the recipient or an animal. They can be purchased for readings, essences or treatments. All vouchers are valid for 6 months from date of purchase. They will be sent as a PDF. Please contact me and let me know what you would like to purchase and I'll send you a PayPal invoice.

Pay it forward
If you would like to make a donation to enable someone who would like a session but cannot afford it, to have one, I will match what you donate and let you know when your gift has been used. Please use this donate button and mark your donation PIF.
Refer three friends, get a free session!
For existing clients – If you recommend three friends who buy a full price session, you will get a free session of your choice of the same or lesser value. If you are not yet a client, buy a full price session and also recommend 3 friends who buy a full session you will get a free session of your choice of the same or lesser value. Friends who buy a full price session can also recommend 3 friends and get a free session of the same or lesser value when they buy.
As always, sessions can be for animals or humans. Book here and please let me know who referred you. Thank you!
~~~
For many years I have helped hurt, abandoned, abused animals of all species for free and continue to do so. That does however take time and effort and I do have to eat, feed my dog, pay rent and all the usual bills. If you would like to make a Gratitude Gift on behalf of the many hundreds of animals I have helped and will help, please do so here. Many thanks. PayPal also accepts credit and debit cards.
Privacy Policy - I do not pass on any of your details to anyone.

One Tree Planted
I am delighted to announce that Celestial Healing Light is now donating £1 from every purchase to One Tree Planted, so each time you purchase from me, a tree is planted :)
One Tree Planted is a non profit organisation which helps the environment by planting trees. https://onetreeplanted.org/
Without trees, the planet will die as they cleanse the air we breathe. We need trees, bees and lots more for life to survive. https://onetreeplanted.org/pages/why-trees