I make Flower, Crystal, Environmental and a few Animal Essences in my little corner of East Lothian, Scotland.
Essences gently help balance our emotions and can do no harm as they are only energy but they can be very effective when you choose the right one(s). In balancing the emotions, changes can happen in the physical too as so often it is emotional distress that is the root of our physical problems. Essences are safe for humans of all ages including new-born babies and can also assist the transitioning process at end of life, both for the soul leaving and those not leaving. They are also very helpful for animals.
Dr Edward Bach is probably the best known essence maker as he popularised Flower Essences with his Bach Essences and of course the well known Rescue Remedy which most people have heard of which is a blend of five flower essences. I have all the Bach Essences and several from other makers in addition to my own.

I have made over 400 Flower Essences from plants growing locally to me so I have a very wide variety and I also have over 200 Crystal Essences.

All my essences are made with love, care and Reiki.
For the moment, the New Home essence comes in a 10ml bottle, all other essences are energetic only.
Conversions to other currencies here
Testimonials :
Thanks so much for the crystal essence, I don't know how or why but I haven't needed an allopathic hayfever pill since I started taking it - you're a miracle worker :) Alex Bairstow, Scotland
Muriel is a very talented lady. The care and attention she puts into her essences make them truly miraculous. I have had several and each one just worked wonders, so much so that my 3 year old daughter was also drawn to use one I had recently. The essences have helped me enormously and I can't recommend them highly enough. I have also received Emotion Code treatment and there are few words to describe how effective and powerful this is; it has to be experienced to be believed but you will not be disappointed. This treatment has the ability to tackle problems that other treatments just can't help. Apart from offering wonderful treatments Muriel is a thoroughly nice person and offers such support to her clients, I wouldn't have got through the last few months without her expertise and help. A very gifted and talented lady, I can't recommend her highly enough! AnneMarie, Scotland
I've been lucky enough to have several energy healing sessions from Muriel, and have also received some of her handmade plant & crystal essences which she specially chose for me. Her sessions were extremely helpful to me - she is so caring and thoughtful, and I had nearly instant improvement. Muriel truly cares about the people (and animals) that she works with, and I am very happy to recommend her services! Nahanni Faith Hartwood, Canada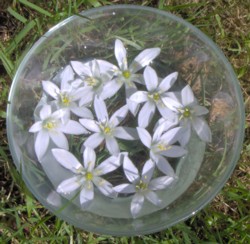 Star of Bethlehem essence in progress.
Star of Bethlehem is a wonderful essence for shock, trauma, grief, helping bring us back into balance after a fright, bad news etc.
~~~~~~~
I now have a Facebook group about my work which you are welcome to join.

~~~~~~~